Our Flavors
Over 75 Flavors and Counting
Flavors changing often! Be sure to try our "Last Call" flavors before they leave for the season!
Available This Week!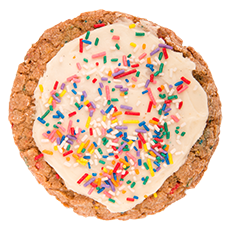 Funfetti
Butter, Sugar, Flour…
Plus mountains of sprinkles.
Topped with our famous frosting.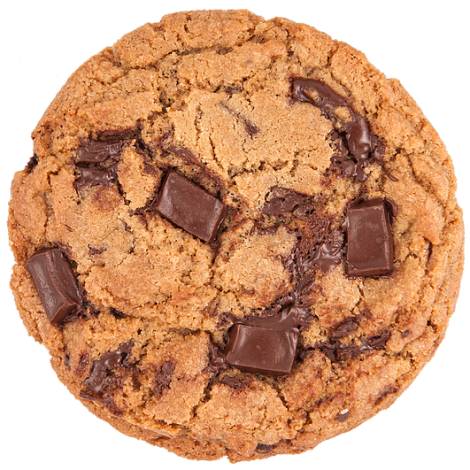 The Classic
Far from average, forever a classic,
Packed with gourmet chocolate chunks
and a hint of coarse sea salt.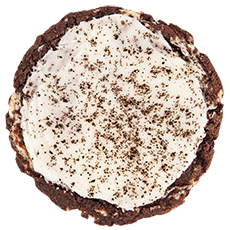 Cookies & Cream
Black cocoa, Oreo cookie crumbs,
white chocolate & vanilla frosting.
An instant fan favorite.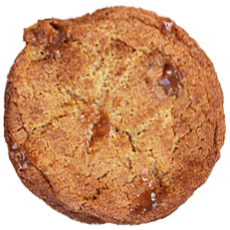 Dulce de Leche
Abuela approved! This cookie is made
with homemade dulce de leche caramel
and dusted with cinnamon sugar.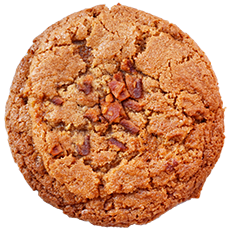 Maple Bacon
Maple candied bacon and homemade
toffee bits blended together for the
perfect savory/sweet snack.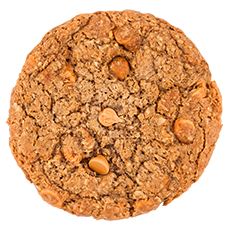 Oatmeal Scotchie
This combination of oats, creamy
butterscotch, vanilla and a pinch of
cinnamon is practically perfection.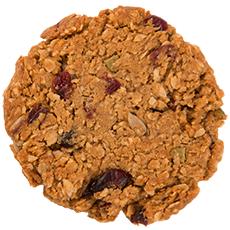 Yogi Bare
A cookie fit for the trail!
Brimming with peanut butter, oats,
raisins, craisins, nuts & seeds.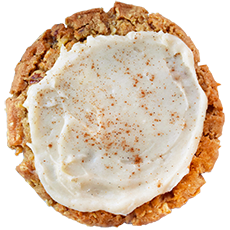 The Hummingbird
Oats, banana, pineapple, pecans,
and Southern cream cheese frosting.
So good you won't believe its vegan!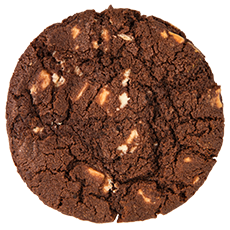 Chocolate Duet
A beautiful harmony of cocoa with
notes of semisweet & white chocolate.
Walnut pieces add texture to this melody!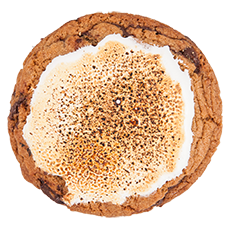 Sch'mores
Taste the campfire with our honey graham
base, packed full of chocolate chunks
and topped with roasted marshmallow!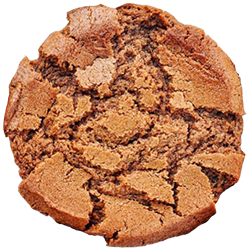 Cookie Butter Bliss
Cookie butter straight from the jar and
into a chewy delight with notes of warm
cinnamon. You'll never believe its vegan!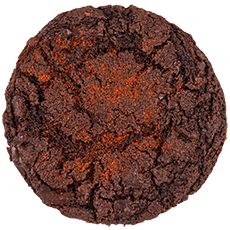 Chocolate Diablo
Dark, decadent, smokey and spicy.
Each bite of this cookie with a kick
will take your mouth on a journey!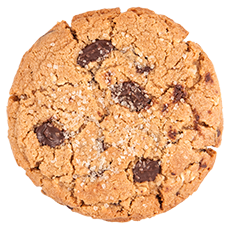 Peanut Butter Cup
Packed with semisweet chocolate and
loads of crunchy peanut butter, this
Schmackary's classic is now Vegan!
It's simply peanut butter bliss.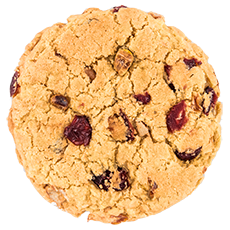 Sweet Corn
Inspired by Southern cornbread, this
Sweet + Savory combo, stuffed with
toasted pecans & cranberries pleases
even the most discerning taste buds.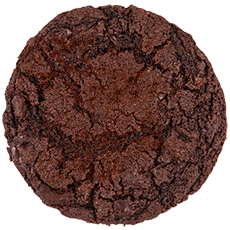 Mocha Java
A dark chocolate cookie brewed with rich espresso, semisweet chocolate and crunchy cacao nibs. Finished off with our silky vanilla latte frosting.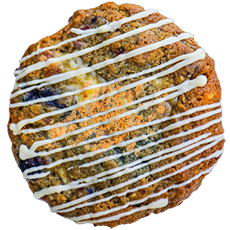 Blueberry Cobbler
An oatmeal sensation with blueberries
and white chocolate, topped with
lemon glaze & cinnamon streusel.
"Violet, your'e turning violet, Violet!"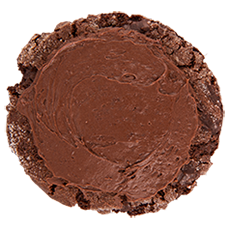 Chocolate Explosion
A sinfully rich chocolate base loaded up
on semisweet chocolate and topped
with our fudgey chocolate frosting.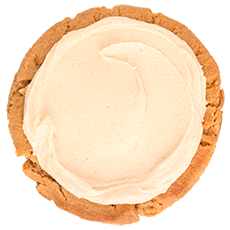 Fluffer Nutter
A peanut butter fantasy complete with
ground peanuts, peanut butter chips &
peanut butter marshmallow frosting.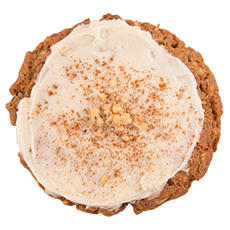 Carrot Cake
The perfect slice of Carrot Cake,
disguised as a soft, chewy cookie.
Roger Rabbit approved!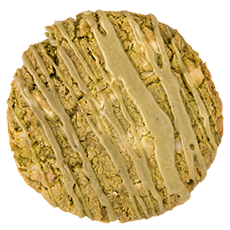 Green Tea
Smooth organic matcha takes this
White Chocolate + Macadamia Nut
cookie to a whole new level.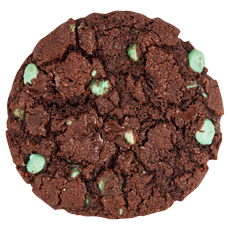 Dirty Leprechaun
BACK FOR SPRING!
dark cocoa / mint chips / semisweet chocolate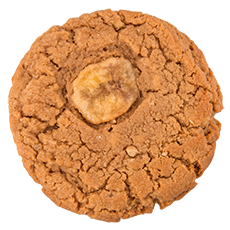 PB Banana Crunch
What the crunch?!
Creamy peanut butter gets chunky and
funky with crunchy banana chips.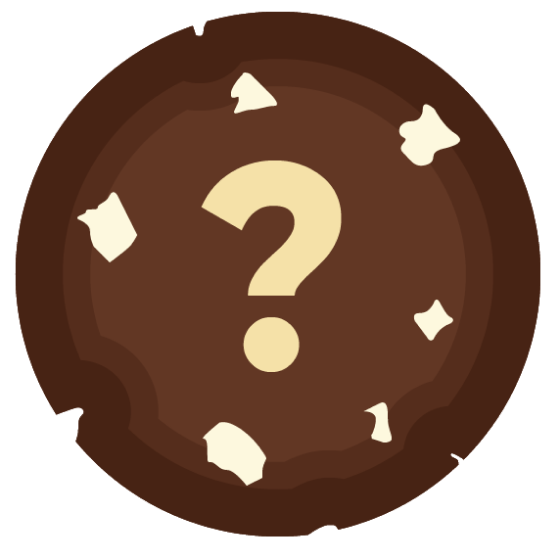 Mystery Cookie
We select a random cookie to fill out your flight.
Treats Available Now!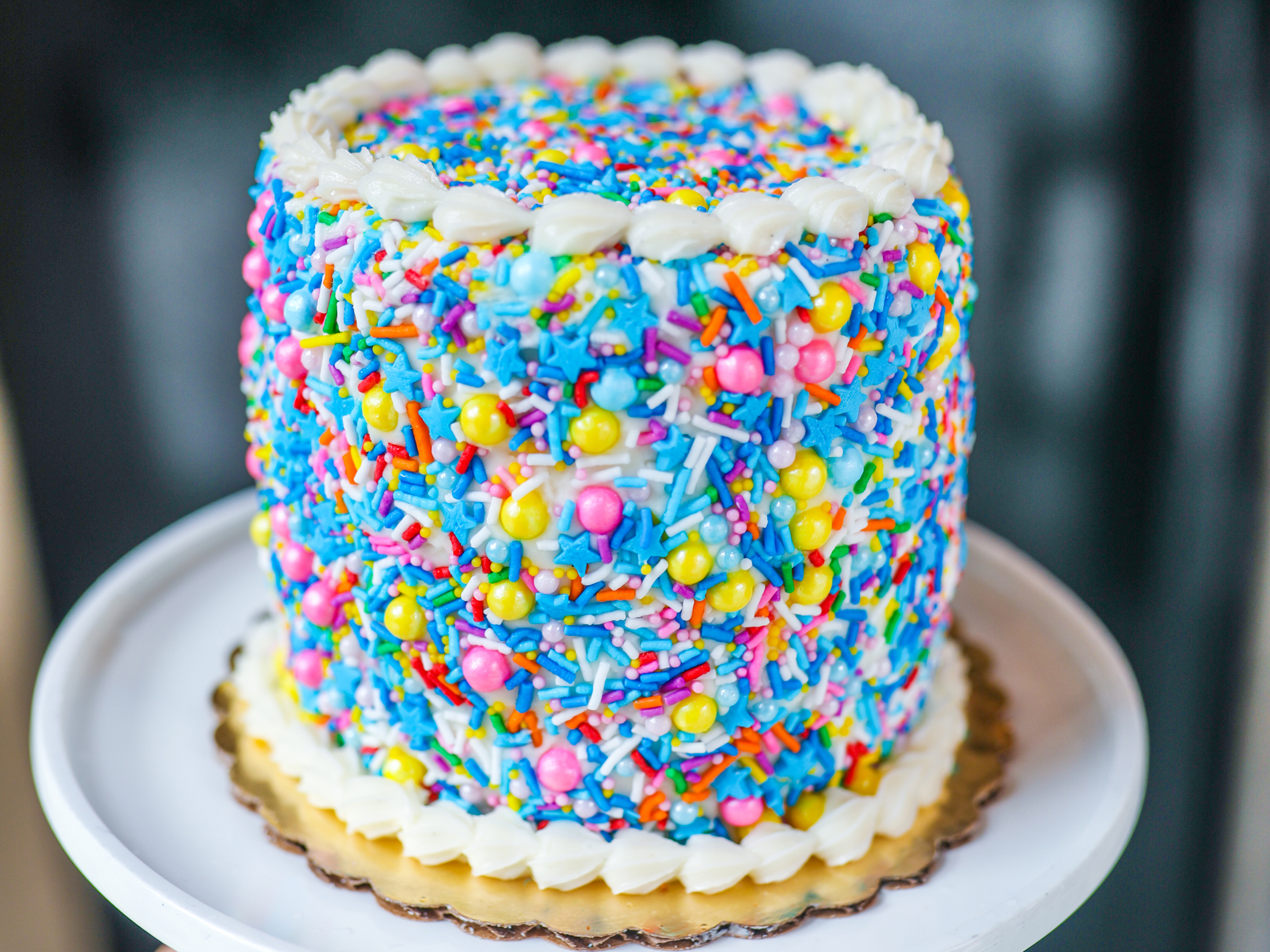 Funfetti Cookie Cake
Our best selling Funfetti cookie is now a 5-tier Cookie Cake!
If you love a frosted sugar cookie, this cake will NOT disappoint!
Treats are not currently available. Coming back soon!
Out of Season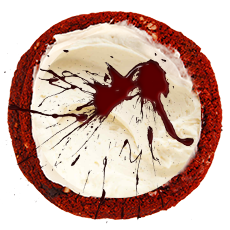 BLOOD Red Velvet
Rich and Velvety. Stuffed with
semisweet and white chocolate.
Finished with silky vanilla frosting.
*edible blood on local orders only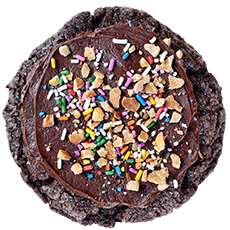 Chocolate Cookie Crunch
LIMITED TIME FLAVOR
Our chocolate crunch cookie is BACK!
triple chocolate cookie / chocolate nutella frosting / sprinkles / crushed peanuts / sugar cone bits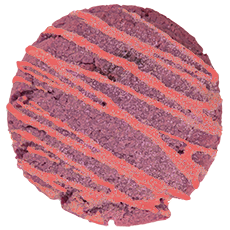 Hibiscus Strawberry
BACK FOR SPRING!
hibiscus / cacao nibs / strawberry glaze (vegan)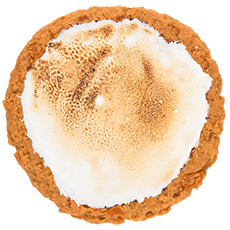 Candied Yam
LAST CALL
corn flour / yams / toasted pecans / brown sugar / cinnamon / toasted marshmallow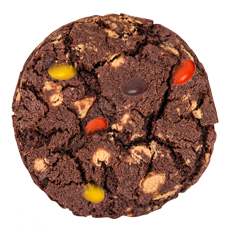 Peanut Butter After Dark
A chocolate-peanut butter dream
come true, with semisweet chocolate
peanut butter chips and Reese's Pieces.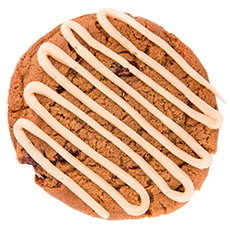 Pumpkin Spice
pumpkin / autumnal spices / cranberries / cinnamon chips / pecans / maple cream cheese frosting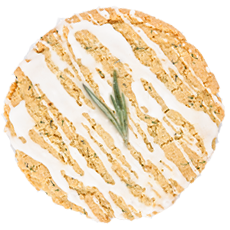 Rosemary's Baby
A soft & creamy lemon cookie with
a delicious blend of white chocolate,
pine nuts and fresh rosemary.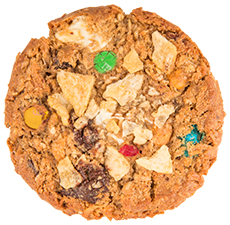 The Hangover
Oats, M&Ms, salt & vinegar chips,
coconut, butterscotch, nuts & more…
A cure for the roughest of nights!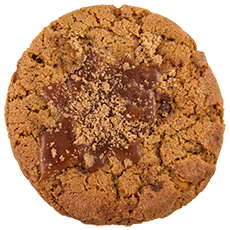 Pick of the Patch
LAST CALL
pumpkin / toffee bits / butterscotch / caramel / streusel topping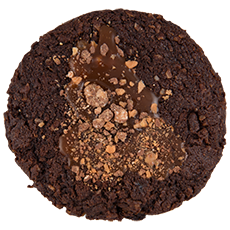 Candy Bar
A sinfully rich chocolate base packed
with Snickers, Butterfinger, toffee bits,
Reese's Pieces & salted caramel!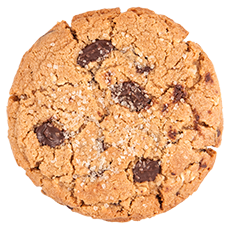 Peanut Butter Cup
Packed with mini peanut butter cups
and loaded with semisweet chocolate.
It's simply peanut butter bliss.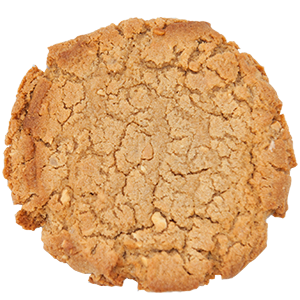 The Peanut Gallery
peanuts / peanut butter / peanut butter chips
*may contain peanuts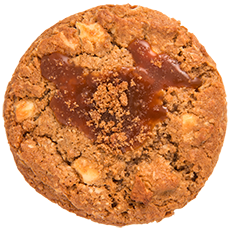 Caramel Apple Crisp
Granny Smith apples, white chocolate and gooey salted caramel. Finished with a dusting of cinnamon streusel.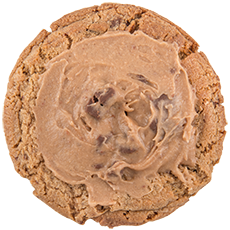 Cookie Dough
A creamy cookie dough frosting tops this
milk chocolate laden sweet treat.
You cookie doughn't want to miss this one!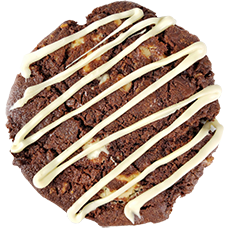 The Great White Way
A blackout twist on the classic combo of
White Chocolate + Macadamia Nut
This cookie deserves a standing ovation!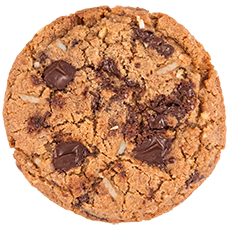 Choconut Chip
Take a classic and make it better!
Chocolate chunks, sweetened coconut &
walnut bits make this the ultimate chew!
Buckeye Moonpie
dark cocoa / semi-sweet chocolate / peanut butter-marshmallow frosting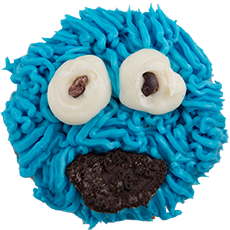 Frosted Classic Cups
semi-sweet chocolate / sea salt / vanilla cream cheese frosting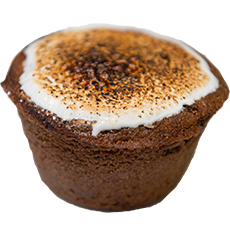 Sch'mores
honey graham base / semi-sweet chocolate / toasted marshmallow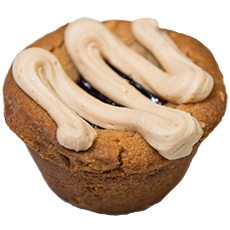 PB & J
peanut butter / grape or strawberry jelly / peanut butter chips / roasted peanuts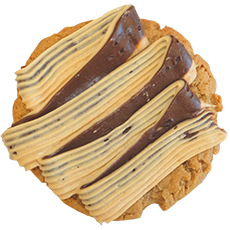 PB Remix
peanuts / peanut butter / peanut butter chips / chocolate frosting / fluffer frosting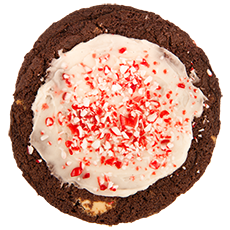 Dirty Peppermint
This cookie is on Santa's naughty list.
Deep dark cocoa, crunchy peppermint
bits, smooth white chocolate and creamy
vanilla frosting is worth every sinful bite.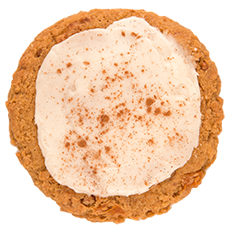 Eggnog
Your favorite holiday drink turned into
a soft & creamy cookie with
delicious hints of nutmeg and topped
with eggnog infused frosting.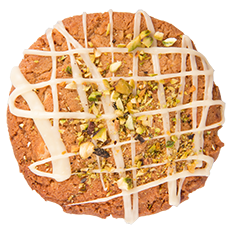 Glazed Pistachio
We are going nuts for buttery pistachios
blended with warm cardamom and
condensed milk. Glazed in white chocolate.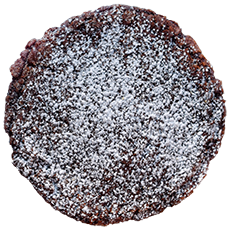 Mexican Hot Chocolate
Like a hot cup of cocoa brewed with
gooey chocolate. Finished with subtle
notes of cayenne pepper & cinnamon.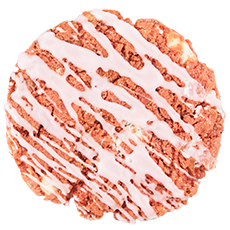 Strawberries & Cream
Sun ripened strawberries paired
with creamy white chocolate! This
gluten-free gem is a sweet surrender
you wont soon forget.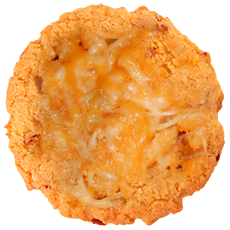 Schmack & Cheese
corn flour / cornmeal / cheddar / gruyere / mozzarella / bacon / elbow macaroni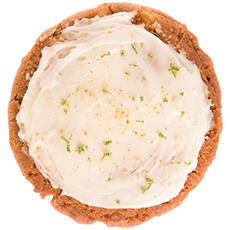 Key Lime
Taking this Floridian favorite up a notch
with crushed pistachios, white chocolate
and a lime zested vanilla frosting!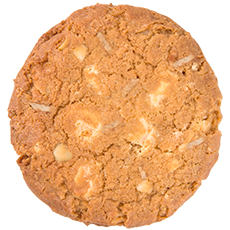 White Island
White Chocolate + Macadamia Nut
and then add sweet coconut for texture!
When can I move to this island?!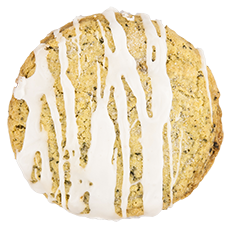 Mint Mojito
A taste of Summer packed into a soft
sweet treat with muddled mint & lime.
Drizzled in a boozy rum glaze.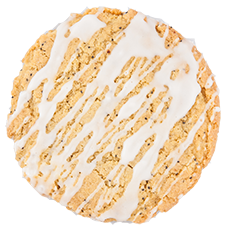 Lemon Poppy
Soft & tender with a corn flour base
and drizzled with a sweet lemon glaze,
this cookie is like a taste of sunshine.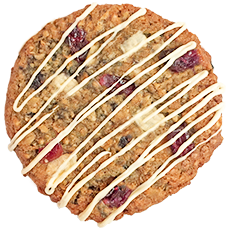 Red, White, & Blueberry
Oats, tart cherries, cranberries.
white chocolate & blueberries.
Patriotism never tasted so sweet!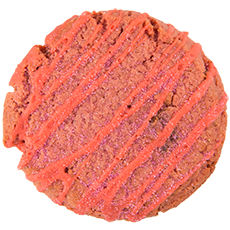 Strawberry Rhubarb
We put the whole strawberry patch in
this fruity delight, plus fresh tart
rhubarb to give your tastebuds a zing!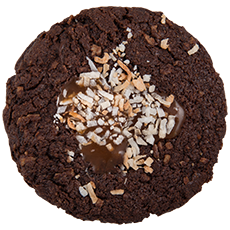 Caramel Delight
A chewy chocolate cookie with a blend
of sweet coconut flakes, toffee bits and
a smidge of caramel. What a delight!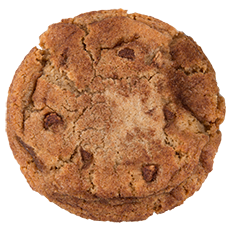 Schmacker - doodle
Turning the snickerdoodle inside out
by stuffing it with cinnamon sugar
chunks and white chocolate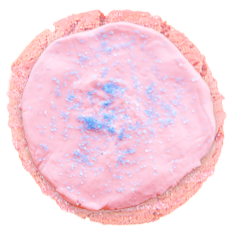 Glinda's Cotton Candy
"In honor of Glinda, and sure to be just as Popular!
This February, Schmackary's has teamed up with Wicked to create
a sweet treat that could turn you vegan For Good."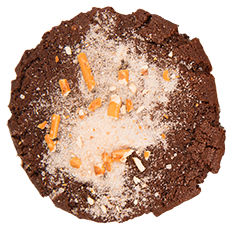 Chocolate Covered Pretzel
What goes together better than
chocolate and pretzels? This cookie
with peanut butter chips & sea salt.
There's your answer.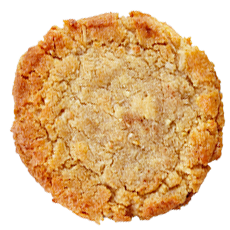 Piña Colada
pineapple / sweetened coconut / white rum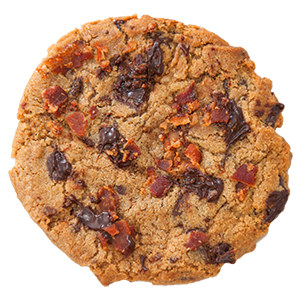 Bacon Chocolate Chip
semi-sweet chocolate / bacon / sea salt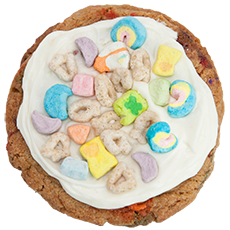 Lucky Charmed
This cookie is magically delicious with
Lucky Charms cereal, marshmallows
and a milky marshmallow frosting.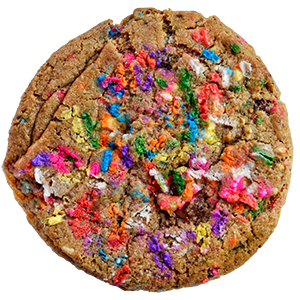 The Birthday Party
Everyone is invited to this party!
A cake batter cookie complimented
with sprinkles, crushed oreos & two
varieties of chocolate!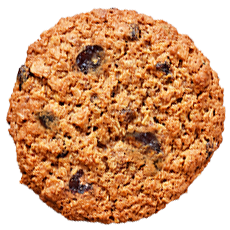 Honey Bunches
oats / honey / granola clusters / toasted almonds / plump raisins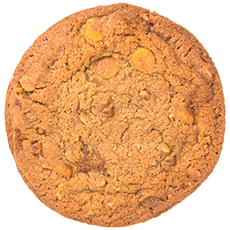 Butter Pecan
Browned butter, plus butterscotch,
toffee bits and toasted pecan pieces.
I butter pecan't with how good you are.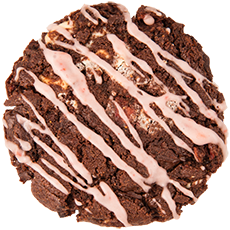 Chocolate Covered Strawberry
Just like a ripened strawberry dipped
in decadent chocolate, this cookie will
take your tastebuds on a journey and
leave you begging for more!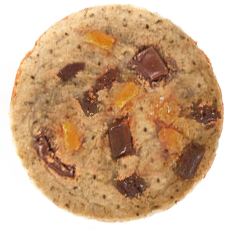 Earl of Chocolate
Calm your senses with each bite. Earl
Grey tea, mixed with candied orange
peel and semisweet chocolate.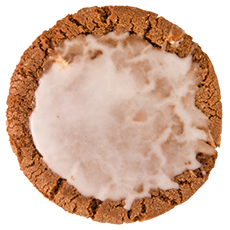 Ginger Rogers
The poetic blend of spices in this chewy
glazed ginger molasses cookie will have
your taste buds dancing cheek to cheek.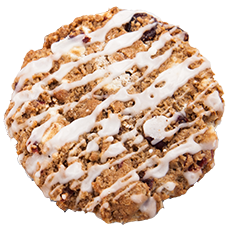 Cranberry Dream
Perfect for the season, this oatmeal
cookie features plump tart cranberries
and white chocolate chunks,
Glazed in a sweet lemon drizzle.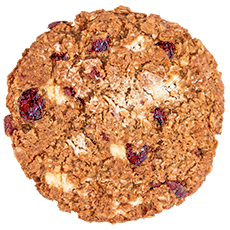 Cherry Chunker
She's chunky, funky and oh so delicious!
Montmorency tart cherries, creamy
white chocolate & a dash of cinnamon
make a simply oatrageous combination!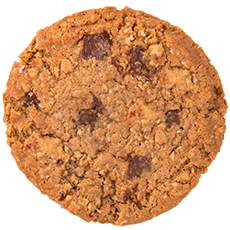 Chunky Monkey
FEBRUARY EXCLUSIVE
oatmeal / banana / semi-sweet chocolate / walnuts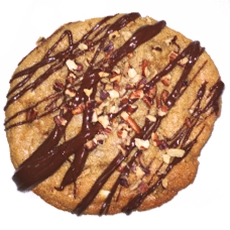 Almond Roca
English toffee / toasted almonds / semisweet chocolate drizzle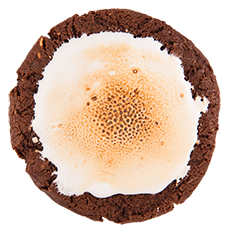 Rocky Road
dark cocoa / semi-sweet chocolate / toasted almonds / roasted marshmallow
A Citrus Story
"You'll Shoot Your Oats Out Kid!"
oats / cranberries / orange oil & zest / cinnamon chips / toasted pecans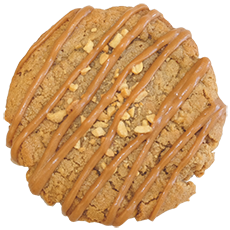 Thai Chili Peanut
peanut butter / garlic / fresh ginger / Thai chili's / sweet & spicy peanut glaze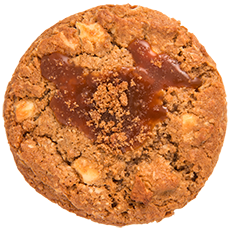 Poisoned Apple Crisp
Granny Smith apples, white chocolate
and gooey salted caramel. Finished
with a dusting of cinnamon streusel.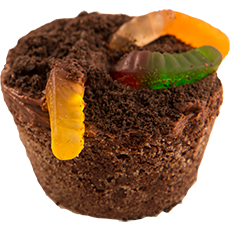 Worms 'n Dirt
dark cocoa / semi-sweet chocolate / chocolate pudding / chocolate cream cheese frosting / oreo bits / gummy worms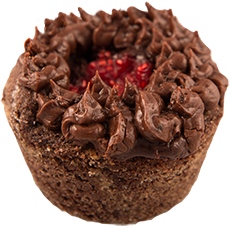 Chocolate Covered Raspberry
dark cocoa / semi-sweet chocolate / raspberry puree / chocolate cream cheese frosting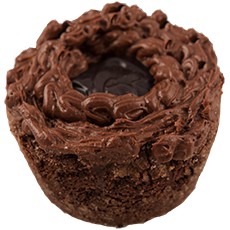 Chocolate Lava
dark cocoa / semi-sweet chocolate / chocolate fudge / chocolate cream cheese frosting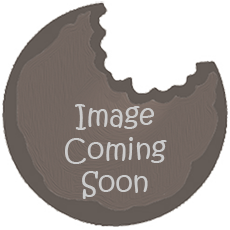 Andy's Mint
dark cocoa / mint chips / semisweet chocolate / chocolate frosting